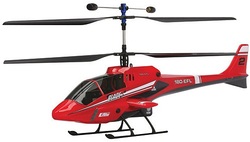 | | |
| --- | --- |
| | הגדל תמונה |
| | | | |
| --- | --- | --- | --- |
| שם המוצר: | מסוק חשמלי 4 ערוצים למתחילים | מחיר מחירון **: | ₪0 |
| סוג מכירה: | רגילה | מחיר בחנות: | ₪690 |
| דגם: | BLADE CX-2 | דמי משלוח *: | ₪50 |
| יצרן: | E-FLITE | מ' כולל משלוח: | ₪740 |
| כמות מוצעת: | | מספר תשלומים: | עד 3 תשלומים |
| נותרו: | כמות לא מוגבלת | זמן הספקה: | עד 4 ימי עסקים |
| מק"ט: | | אחריות: | |
שלט דיגיטלי 2.4GHZ , סוללת ליתיום כולל מטען , מתאים במיוחד למטיס המתחיל , יציב וקל להטסה , מגיע כולל סט אימונים ללימוד ומוכן להטסה ישירות מהאריזה...
מפרט:
The Blade® CX2 takes the excitement and beginner-friendly flight stability of the original Blade CX and adds Spektrum™ 2.4GHz DSM® radio control that lets you fly anywhere, anytime without ever having to worry about interference. It's the first ready-to-fly RC aircraft of any kind to come with this extraordinary technology built in. In addition, the 4-in-1 control unit has been updated with improved gyro and tail control that gives the Blade CX2 even better tail response while minimizing drift. Two featherlight S60 super sub-micro servos provide powerful, precise cyclic control. Topping it all off is an aggressive new body design that looks fantastic in flight and is unlike anything else out there.
When it comes to micro heli fun everyone can enjoy, you simply can't beat the value and performance of the Blade CX2.
Detailed Information
The Blade CX2 coaxial, counter-rotating blades cancel out the rotational torque that makes hovering a conventional heli so difficult. Instead of a tail rotor, the Blade CX2 uses differential rotor speed for tail control, so the inherent stability of the counter-rotating blades is preserved in all phases of flight, making this a heli just about any first-time pilot can enjoy.

No assembly is needed, and there is nothing left to buy. In addition to the 2.4GHz DSM® 5-channel transmitter and 4 AA batteries, the Blade CX2 also includes a rechargeable 2-cell 7.4V 800mAh Li-Po battery pack with charge protection circuitry, DC Li-Po balancing charger, AC charger adapter and a step-by-step instructional VCD that helps ensure your first flight is a successful one.
E-flite also offers a number of aluminum option parts for the Blade CX2 including: upper rotor head (EFLH1240), upper bearing holder (EFLH1244), lower rotor head (EFLH1245) and swashplate (EFLH1246),hat not only look great, but fly great and are durable too.
The Blade CX2 is the first ready-to-fly aircraft of any kind to come with advanced 2.4GHz DSM radio control technology built in. With DSM you never have to worry about interference from other RC users, nearby 2.4GHz devices or commercial transmission towers. There is no tuning and no channels to select. Just power up and fly.
The optional training gear set (EFLH1205, sold separately) makes learning to fly the Blade CX2 even easier than it already is by adding more stability and helping to prevent blade strikes.
Please see product page for installation instructions.